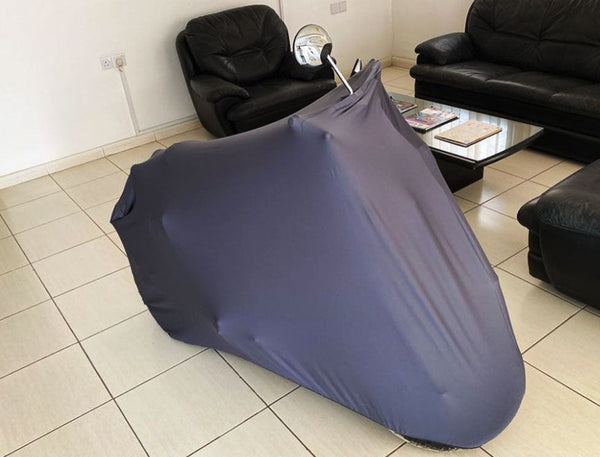 Indoor Motorbike Cover
Protect your prized motorbike with our premium indoor covers, available in three different shapes: Racer, Scooter, and Touring. Choose from our selection of eight standard colours, including popular options such as Black, White, Yellow, Green, Blue, Azule, Grey, and Red.
Our motorbike indoor covers are crafted from patented material, which is renowned for its exceptional softness and durability. It provides unbeatable protection for your motorbike's bodywork, without any risk of abrasion. Thanks to the unique thread in combination with the fabric, our covers are also anti-static and breathable, ensuring a custom fit and ultimate protection for your bike in any indoor environment.
Cleaning is a breeze as our covers are easy-to-use and washable with a domestic washing machine using non-aggressive detergent. With our indoor motorbike covers, you can rest assured that your bike will stay in pristine condition, preserving its value and your pride and joy. Plus, they are customizable with a transferred printed logo, so you can show off your brand or design.
Our indoor motorbike covers come delivered in an exclusive bag, adding an extra touch of luxury and convenience to your purchase. Don't settle for anything less than the best when it comes to protecting your motorbike. Order your premium indoor cover today and keep your bike in top condition for years to come.
 Our manufacturer partner has over 45 years of experience in the field, supplying premium covers to motorcycle and automobile companies such as Ducati, Ferrari, Lamborghini, and Pagani. With our Automotive covers, you can be sure that your vehicle will be kept in pristine condition, just as you always wanted. Order your premium Covers today and enjoy worry-free protection for your beloved bike.